Collaborative Listening by Lisa Hughes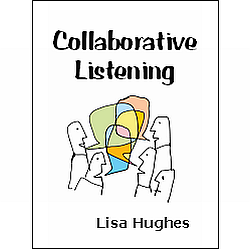 How many moments of your life do you spend communicating with people: one-on-one or in committees, project teams, boards, commissions, councils, task teams, and other work groups? What would it mean to you if you could make those moments more efficient, more enjoyable, and more effective? Click here to find out more.
Reluctant Witness: Caring for Dad on His Journey Home
After Dad's Alzheimer's dementia diagnosis, I became his caregiver. This book comes from diary entries and others' experiences of providing care for loved ones. Some is fiction, most is true. Keep an open heart as you journey through the tough times–confusion, resistance, and pain–of care giving, along with the good times, moments of love, joy, and peace. Click here to find out more.